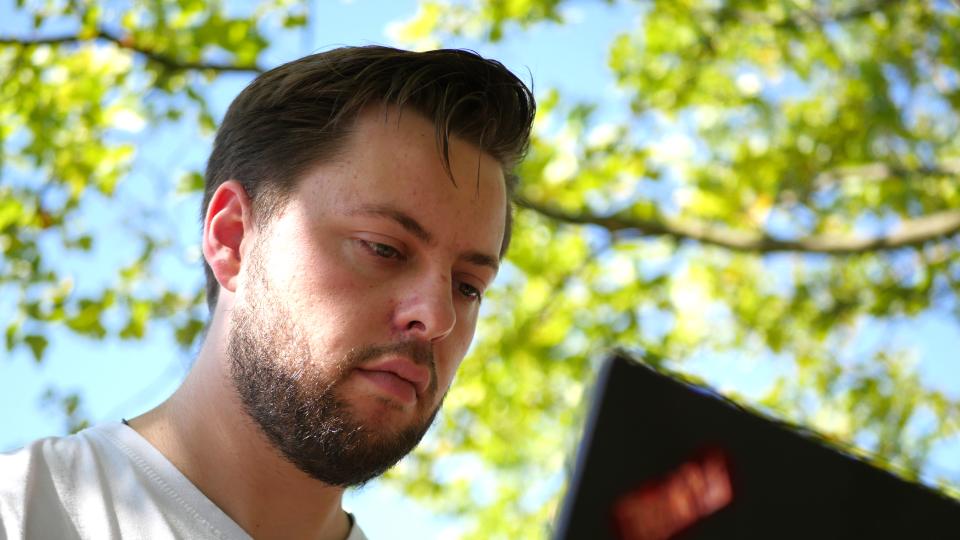 TrustCerts
TrustCerts was established in August 2019 from the Institute for Internet Security for the Ruhr Master School – Gelsenkirchen. The company promise reads as follows: "With TrustCerts, you can secure your digital originals for all time against forgeries and fraud."
TrustCerts
Mirko Mollik
#NeueGründerzeit Nordrhein-Westfalen spoke to founder Mirko Mollik about the challenges of start-ups in the IT sector, the added value from networking, start-up financing and repeatedly weighing up option A compared with option B.
Mirko Mollik: I founded TrustCerts as a student because I came across a problem for which I was able to develop a solution. One reason this came about was because I was dealing with IT security issues and block chain technologies as part of my Master's course. Another aspect that accelerated it was the news about scandals in IT data security. I wanted to make documents digitally secure to protect them against forgery and fraud.
Setting up a business in the IT environment meant that it was very important to look at the problem from the customer's point of view – something that is also important to me. What is the problem? You need to understand the exact nature of the problem and develop a tailor-made solution. Otherwise, the customer will be free of a problem that they don't even have. My first tip to anyone starting up their own business: first comes the problem, then the solution – not the other way round.
"My first tip to anyone starting up their own business: first comes the problem, then the solution – not the other way round."
Founding a business as a student: yes, that's a challenge!
Mirko Mollik: Since I was still studying when I set up the business, I had to weigh up what came first – my studies or visiting a trade fair for my business? I developed a guide for myself, after which I decided that exams come first; chores don't, because the date of submission is more dynamic. At the same time, I tried to ensure that I kept a grip on the double workload with lots of work in parallel. And thus, a further consideration: roll up my sleeves and endure the mental strain versus focus on my health. You can give 150 per cent for so long in the initial phase. But setting up a business is a marathon, which is why living healthily from day-to-day is also important for productivity. My second tip, or rather something I've realised subsequently, is that you need to want to be self-employed and find your own customers. When people ask me what kind of personality is required for somebody starting their own business: you need to want solutions. You need to want to face challenges. But you must also want to have to constantly make decisions – and make them quickly – while not having any certainty. You can also make wrong decisions. And you need to want to prove yourself.
Acquiring new customers and the value of advisers
Mirko Mollik: IT businesses in particular are subject to the classic chicken-egg problem: you are a young business, but customers want to see testimonials from other customers – and major customers, too, as this will ultimately give them a feeling of security. I therefore decided to surrender shares in my business and bring in my professor and two consultants from the start-up environment. I want to grow, and I needed contacts. The three of them opened doors for me. Open is also quite a key word, which leads me to my third tip: as someone starting their own business, you need to be open – to people, ideas and also your own employees.
Networking as an opportunity
Mirko Mollik: I have technical expertise to contribute. What I lack is 'business administration' and 'marketing' expertise. To recruit support for these shortcomings, I had to begin by writing down my problems. What exactly do I need? Who could help me? I started by approaching friends and using the Internet to get in touch with the usual NRW contacts. Contacts that I made at start-up events, such as the ruhr:HUB, helped me especially here. And so, to my fourth tip: it is absolutely essential to network with other people who have faced – or are facing – similar challenges, but who have already made progress on them. I set up a GmbH and was then facing the issue of accepting that being the first round of funding – but then what? And what about future steps? How do I approach employees? To obtain the experience that was lacking in my business, I needed to open up and delegate responsibility: there are now two of us heading TrustCerts. And there's another tip that leads on from that: one person can't do everything. You need to get over that idea and delegate responsibility. And at the same time, have faith – in your employees, but also in the fact that your business development has good momentum and will lead to a positive result.
The ideal location
Mirko Mollik: I come from Aachen, but I decided to study in Gelsenkirchen. That's also the ideal location for my business. For a start: in principle, you can work almost anywhere in my industry. The coronavirus epidemic has convinced everyone of that. But I still need an office: in Gelsenkirchen, I pay less rent than in the 'big-name cities'; I can find the staff I need close to the University and everything is manageable, linked. So, my fifth tip: avoid a high-profile company address but have the staff that would support working at such an address. My employees are worth their weight in gold. Our working relationship is very open. We need that: my employees also need to identify with the company and work together on finding solutions to ensure its success.
"Avoid a high-profile company address but have the staff that would support working at such an address. My employees are worth their weight in gold."
Seed capital: a
Gründerstipendium NRW

start-up grant will help

Mirko Mollik: Naturally, I also needed money to kick-start my business and finance my life. I decided to apply for an NRW start-up grant. Unlike other offers, such as the EXIST-Gründerstipendium, NRW support was less – you receive 1000 euros per month – but the hurdle, albeit less of one, is applying for it and receiving it. It helped me to cover the costs of my business and maintenance. For the next step, I hope to use evidence from the relevant customers to obtain venture capital, so that I can grow my business to become a national company, and perhaps even an international company one day. So, I'd like to conclude with my sixth tip by saying that the state and NRW provide very good, though very different, forms of financial assistance. Anyone starting their own business needs to look carefully to see what suits their own situation. For me, the Günderstipendium NRW start-up grant was ideal.