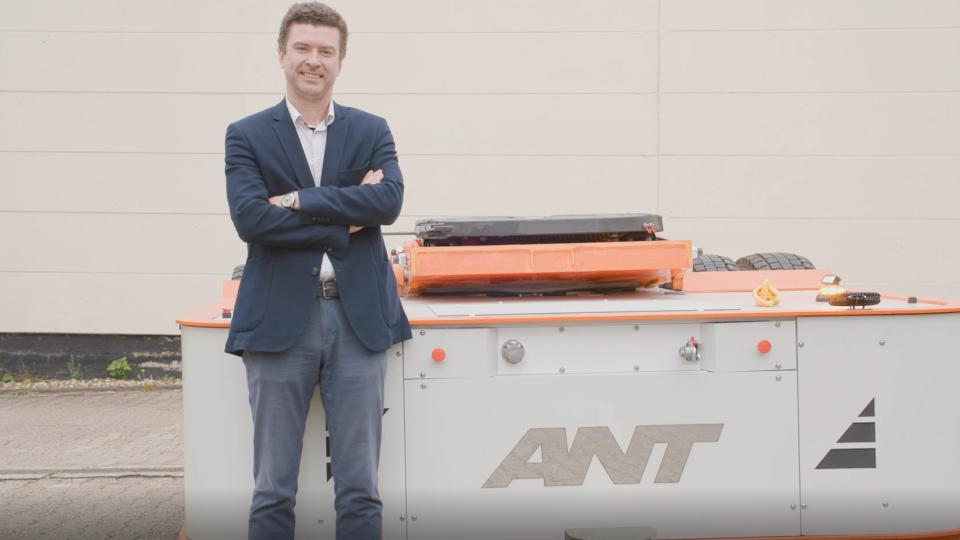 "We want to replace diesel trucks ..."
Sustainable, cost-efficient, productive – these advantages speak according to co-founder Vitaly Chukanov for ANT Machines. These are powerful trucks that are to be used wherever truck trailers and containerised goods are moved over shorter distances.
ANT Machines – eTrucks for clean, efficient logistics
Vitaly Chukanov
If co-founder Vitaly Chukanov has his way, all conventional diesel tractors still in use at central goods handling points will soon be replaced by ANT Machines – because with 0% emissions, they are cleaner, quieter and also cheaper. We met the founder at his company location in Dortmund and saw the prototype of ANT Machines live in action.
Vitaly Chukanov takes us to the production hall of ANT Machines in Dortmund. Here is the prototype of the vehicle that his company is working on with great enthusiasm and that will be indispensable in ports, airports, railway stations and industrial plants in the future. Vitaly Chukanov has been working on special vehicles for years. His know-how is now flowing into ANT Machines, which he sees as the future in logistics not only because of their 0 % emissions. "No jobs are lost in the process," emphasises the founder.
"Rather, they become more valuable by giving people new tasks." Although the ANT Machines prototype is already fully functional, there are still optimisations to be made here and there. In addition to remote control, full automation of the vehicle is also planned. But Vitaly tells us that it takes patience to implement all these things. For example, delivery bottlenecks of components repeatedly set back the schedule.
The company has received support from various quarters. Vitaly Chukanov would particularly like to mention the City of Dortmund's Economic Development Agency and the Chamber of Industry and Commerce. The company is also proud of its participation and placement in the Start.up! Germany Tour 2021.